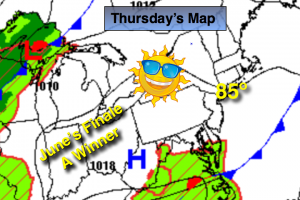 Synopsis: 
High pressure will make for a decent June Finale.   A disturbance in the upper levels of the atmosphere will spark off scattered storms by mid-day Friday into Friday Night.  The July 4th weekend looks like a winner with high pressure rebuilding into the area.
Today:
Plenty of sunshine, warm.  Highs in the mid 80s.  South wind at 8-12mph.
Tonight:
Partly cloudy.  Lows in the upper 60s in the City, near 60º inland.   South wind at less than 5mph.
Friday:
Any morning sun will give way to mostly cloudy skies with humid conditions.  Scattered showers and thunderstorms will develop by mid day and continue on and off into the night.  Highs will be in the 70s to around 80º.
Saturday:
Mostly sunny with highs in the lower to mid 80s.
Sunday:
Mostly sunny.  Readings will be in the mid 80s.
July 4th (Monday):
Plenty of sun.  Highs in the mid 80s.  Humidity levels will be tolerable during the holiday weekend.
Stay Tuned.
Keep it here for a no nonsense, no hype forecast.