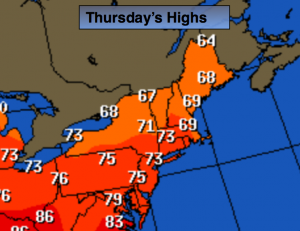 Synopsis:
A strong Canadian will move toward the Northeast today.  It'll be a Fall preview for the end of the week especially after Wednesday's high of 91º.  Pleasant conditions are expected through Saturday. The next chance of showers won't come until Sunday afternoon with an approaching cool front.
These high pressure systems are precluding storm development which is worsening the drought situation. The forecast doesn't look good for significant/widespread rain the next several days. An updated drought statement will be issued in the coming days.
Today:
Sunny and much cooler.  Temperatures will be in the mid 70s.  Northeast to East wind at 8-12mph.
Tonight:
Clear and very cool with lows near 60º in the City, the mid to upper 40s inland. Southeast wind at 5mph.
Friday:
Sunny with seasonal readings.  Highs will be in the mid to upper 70s.
Saturday:
Mostly sunny with highs in the upper 70s.
Sunday:
Morning sun will give way to clouds and afternoon showers.  Highs around 80º.
Monday:
Possible morning showers, afternoon sun.  Highs in the upper 70s.
Stay Tuned.
Keep it here for a no nonsense, no hype forecast.