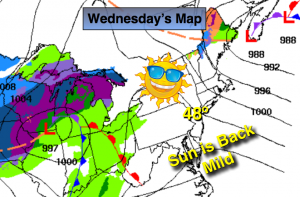 Synopsis:.
On and off rain and areas of drizzle are expected into this evening as the storm slowly moves away from the region. North and West on and off wet snow or sleet is possible, especially at the higher elevations. There will be dry times.
As the storm pulls away Wednesday we'll finally get to see the sun!  There is no cold air behind the Nor'easter so Spring-like readings are expected.
A cold front will swing through Thursday. The mercury will come down is steps as we head into the weekend.
A more Winter-like pattern looks to be in the cards as February nears. Will the storm track be favorable for snow? Stay tuned.
Tonight:
Scattered areas of rain, wet snow or sleet will come to an end otherwise, mostly cloudy. Lows in the mid 30s in the City, around 30º inland. Northwest wind at 15-25mph.
Wednesday:
Partly sunny and mild. Highs in the upper 40s to around 50º. Northwest to West winds at 10-15mph.
Thursday:
Partly sunny and mild. Highs around 50º.
Friday:
Partly sunny, windy and cooler. Highs in the around 40º.
Saturday:
Partly sunny, more seasonal. Highs in the upper 30s.
Sunday:
Partly sunny. Highs in the upper 30s.
Stay Tuned.
Keep it here for a no nonsense, no hype forecast.