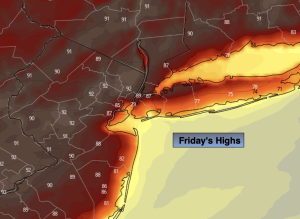 Synopsis:
June's debut of heat will continue today. High pressure off the East coast will be responsible for our Summer feel. A weakness in the atmosphere will bring the threat of scattered thunderstorms anytime after 3pm. Most areas will remain dry under a hazy sun.
A cool front will approach the region tonight. Scattered showers are possible.
Canadian air will work in from New England on Saturday. This will result in much cooler readings under mostly cloudy skies. The threat of showers has diminished, an isolated chance remains for the morning hours.
Sunday through Tuesday's conditions will be dominated by two upper level lows. One low will move South off the New England coast and the second will move out of Southeastern Canada into the Northeast. These lows will be moisture free but result in near seasonable readings. Average highs are in the mid 70s. Sun and clouds are expected through this timeframe.
Stay tuned.
Keep it here for a no nonsense, no hype forecast.
Friday:
Mostly sunny. Hot. Highs around 90º. Cooler at the coast. Scattered late afternoon and evening storms possible. Northeast to Southeast winds at 5-10mph.
Tonight:
Scattered showers or storms otherwise mostly cloudy. Lows around 60º in all areas. Southeast to Northeast winds increasing to 8-15mph late.
Saturday:
Mostly cloudy, much cooler. Isolated showers possible in the morning. Highs in the mid to upper 60s.
Sunday:
Partly sunny. Highs in the lower 70s.
Monday:
Partly sunny. Seasonable. Highs in the mid 70s.
Tuesday:
Partly sunny. Highs in the mid 70s.