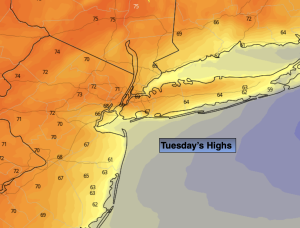 Synopsis:
Heading back to reality on Tuesday weather conditions will not have changed much. It'll be cooler, but the sun will still dominate. Readings will be a few degrees below average as high pressure off the New England coast influences our region.
Wednesday will be bright and seasonable. Temperatures will warm rapidly late week. High pressure will sit over the East coast and the airmass will modify considerably. By Thursday and Friday it'll feel more like Summer.
Cooler air will work in from New England on Saturday. This will result in more seasonable readings (the mid 70s) under a mix of sun and clouds.
Stay tuned.
Keep it here for a no nonsense, no hype forecast.
Tuesday:
Mostly sunny. Cooler. Highs in the lower 70s. Cooler at the coast. East winds at 10-15mph.
Tonight:
Mostly clear. Lows in the lower to mid 50s in urban areas, the 40s North and West. Southeast to East winds at 5mph.
Wednesday:
Mostly sunny. Seasonable. Highs in the mid 70s.
Thursday:
Mostly sunny. Much warmer. Highs in the mid 80s.
Friday:
Mostly sunny. Hot. Highs around 90º.
Saturday:
Sun and clouds, cooler. More seasonable. Highs in the mid to upper 70s.