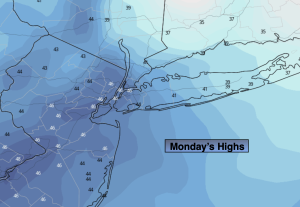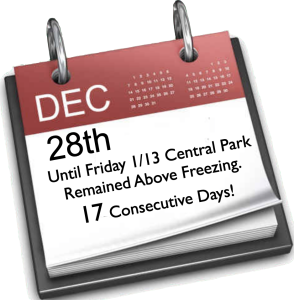 Synopsis:
MLK Day will feature sunshine and tolerable readings as high pressure moves overhead.
Clouds will rule on Tuesday as a low weakens as it heads from the Great Lakes into Ontario. An isolated shower is possible.
Well above average temperatures will greet us on Wednesday with abundant sunshine as high pressure dominates.
Thursday will feature low pressure moving out of the Ohio valley into the Northeast. Rain will develop during the day. A potential mix at the onset is in the forecast for areas well North.
High pressure will move in for Friday with mild readings continuing.
From December 28th through January 13th the temperature in Central Park remained about freezing. That's a 17 day stretch! That has to be a record or close to one. The Southeast ridge dominated. Will that pattern break down?
Stay tuned.
Keep it here for a no hype, no nonsense forecast.
Martin Luther King Jr. Day:
Mostly sunny. Highs in lower to mid 40s. Northwest winds at 10-20mph.
Tonight:
Clear to partly cloudy. Lows in the upper 20s to around freezing along the urban corridor, the teens and lower 20s inland. Northwest winds diminishing to 5mph.
Tuesday:
Mostly cloudy. An isolated shower is possible. Highs mid to upper 40s.
Wednesday:
Mostly sunny. Mild. Highs in the lower 50s.
Thursday:
Rain developing. A potential mix at the onset well North. Highs in the 40s.
Friday:
Sun and clouds. Mild. Highs in the upper 40s.