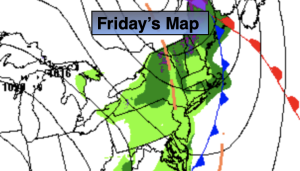 Synopsis:
A cool front will move through on Friday. Scattered showers are likely from mid-morning through midday. It will not be a washout. It'll still be mild with some afternoon sun. Shoppers have faced much more adverse conditions.
Saturday will feature sunshine and our continuation of mild temperatures as another high builds into the region.
The subtropical jet will have a developing area of low pressure coming out of the lower Mississippi valley on Sunday. The day looks to start off with some limited sun but clouds will thicken and a period of rain is likely during the afternoon. No cold air will be available for wintry precipitation.
Our continuation of above average temperatures will continue into next week.
Enjoy our mild temperatures while we can. Happy Thanksgiving!
Stay tuned.
Keep it here for a no hype, no nonsense forecast.
Tonight:
Partly cloudy. Lows in the mid 40s along the urban corridor, the 30s inland.  Light Southwest winds.
Friday:
Scattered showers likely from mid-morning through midday. The sun will make an appearance later in the afternoon. Highs in the lower 50s. Southwest to Northwest winds increasing to 10-20mph during the afternoon.
Saturday:
Mostly sunny. Mild. Highs in the lower to mid 50s.
Sunday:
Becoming mostly cloudy. Rain developing during the afternoon. Mild. Highs in the mid 50s.
Monday:
Partly sunny. Highs in the mid 50s.
Tuesday:
Sunny. Seasonable. Highs around 50º.