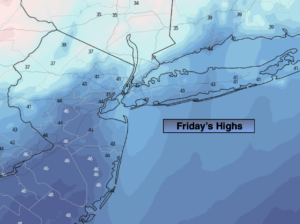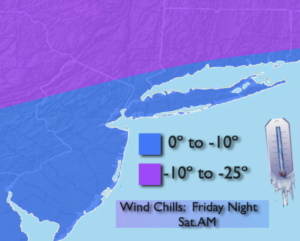 Synopsis:
Today will be a changeable day. Low pressure will develop and move up and well off the Eastern seaboard. This will result in clouds giving way to sun and an increasingly strong Northerly wind. Temperatures will start off mild in the 40s and then tumble as Canadian air rushes in toward evening.
Tonight will be frigid with wind chills below zero in all regions. Please dress in layers and wear a hat. Frostbite can occur within minutes on exposed skin.
A bitter blast will grip the area Saturday. Despite abundant sun, readings will only remain around 20º.
On Sunday sun will give way to clouds. The well advertised storm will be on the way for Sunday Night into Monday. The potential is there for snow inland changing over to a mix or rain. An accumulation is likely before the changeover. A few to several inches are possible. By the coast a quick shot of snow is likely at the onset, but it looks mainly like a rain event. Concern is there for a period of high winds and coastal flooding Sunday night into Monday morning.
The storm will pull away Monday morning with rain or a mix ending early. The sun will return during the afternoon for Martin Luther King Jr. Day. Readings will be a few degrees above the average high of 39º.
A mix of sun and clouds will greet us for Tuesday with chilly temperatures.
Stay tuned..
Friday:
Morning clouds giving way to mostly sunny skies during the afternoon. Becoming windy. Highs in the 40s  then dropping through the 30s by sunset. North winds increasing to 15-25mph with gusts to 35mph.
Tonight:
Clear, windy and bitterly cold. Lows 12º in the City, the single digits inland. North to Northwest winds at 15-25mph with gusts to 35mph. Wind chills will be below zero.
Saturday:
Sunny and frigid. Windy early. Highs only around 20º.
Sunday:
Sun giving way to clouds. Cold. Highs around 30º.
Monday (Martin Luther King Jr. Day):
AM mix, rain depending on location ending during the morning. Afternoon sun. Highs in the lower 40s.
Tuesday:
Partly sunny. Chilly. Highs in the mid 30s.