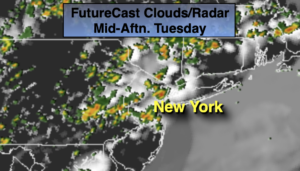 Synopsis:
A Southerly flow will continue around a Western Atlantic high today. This system is responsible for our current heatwave and high humidity. A mix of sun and clouds is expected. Another round of scattered storms is likely later this afternoon and evening with an approaching cool front.
Relief will arrive on Thursday with lower temperatures and humidity. Skies will be partly sunny.
It now looks that on Friday the front will push far enough to the South to keep showers out of the forecast. A mix of sun and clouds is expected. It will be much cooler with readings actually well below the average high of 77º. It may remain in the upper 60s with a wind off the cool Atlantic in some areas.
The weekend looks delightful. It'll be bright and comfortable as high pressure East of New England dominates.
Stay tuned.
Keep it here for a no nonsense, no hype forecast.
Today:
Hazy, very warm  and humid. Scattered PM Storms. Highs in the upper 80s to around 90º. Cooler at the coast. West to Northwest winds at 5-10mph.
Tonight:
Evening scattered storms, otherwise becoming partly cloudy. Lows around 70º in the City. The 60s inland. Winds becoming Northeast at 5-10mph.
Thursday:
Sun and clouds. Much more comfortable and less humid. Highs around 80º.
Friday:
Sun and clouds. Very cool. Highs only around 70º.
Saturday:
Mostly sunny. Highs in the mid 70s.
Sunday:
Mostly sunny. Highs in the mid 70s.