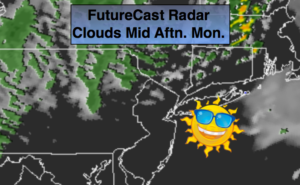 Synopsis:
The storm that gave the region scattered severe thunderstorms early this morning is moving into Northern New England. Winds will increase today behind the storm and become strong. Gust up to 45mph out of the West to Northwest are likely. A Wind Advisory is in effect for the entire tri-state area. Skies will be mostly cloudy and a spotty shower can't be ruled out.
The winds will abate some later tonight but it'll still be gusty. Temperatures will be much colder than recents nights.
Tuesday will be the pick day of the week with mostly sunny skies as high pressure dominates over the Mid-Atlantic. Another high will slip off the New England coast midweek and a stationary front will be in the vicinity. This will result in more clouds on Wednesday with the possibility of some showers or patchy drizzle Thursday. Readings near the seasonal average of 60º. By Friday another front will be approaching with balmy conditions and possible showers later in the day.
Keep it here for a no nonsense, no hype forecast.
Stay tuned.
Today:
Clouds, some sun. Becoming windy.. Highs in the lower 60s early then temperatures will fall through the 50s.  West to Northwest winds at 15-30mph with gusts to 45mph.
Tonight: 
Clearing, windy and chilly. Lows in the 30s to lower 40s in the City. West to Northwest winds at 15-30 with gusts to 45mph early, diminishing some late.
Tuesday:
Partly sunny. Highs in the lower 60s.
Wednesday:
Sun and clouds. Highs around 60º.
Thursday:
Mostly cloudy. Spotty showers possible. Highs around 60º.
Friday:
Mostly cloudy and warm. Showers possible by afternoon. Highs near 70º.