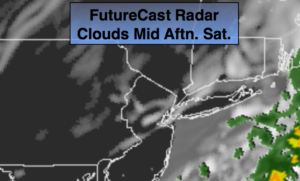 Synopsis:
Scattered showers are likely this evening. As the front approaches tonight a period of heavy rain is likely. It'll be very mild overnight.
The front will get hung up just offshore for the weekend. A few morning showers are possible Saturday, but enough dry air should work in from the West to burn off the clouds by afternoon (meaning the sun should shine). Saturday afternoon will be warm.
On Sunday a storm will develop over the Ohio valley and ride North into New England by Monday. The day will be mostly cloudy. Spotty showers are likely Sunday. By no means will Sunday be a washout. Rain is likely Sunday night and Monday morning.
Keep it here for a no nonsense, no hype forecast.
Tonight:
Periods of rain. Chance of a thunderstorm. The rain could be heavy at times. Very mild. Lows in the 50s to lower 60s. South winds at 8-15mph.
Saturday:
A few morning showers, otherwise skies should become partly sunny by afternoon. Warmer. Highs in the getting well into the 70s, cooler at the coast. Southwest winds at 8-12mph.
Sunday:
Mostly cloudy. Spotty showers. Highs in the lower 60s.
Monday:
Rain likely during the morning. Remaining mostly cloudy. Highs in the mid 60s.
Tuesday:
Partly sunny. Highs in the lower 60s.
Wednesday:
Partly sunny. Highs in the mid 60s.