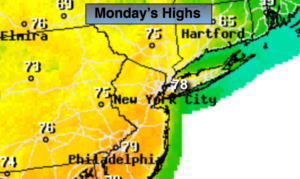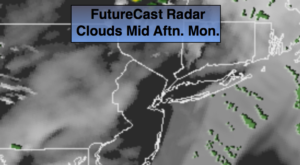 Synopsis:
A warm front will move East of the area this morning. Any early showers will end and skies will become partly sunny today. Temperatures will pop well into the 70s with a Southwest wind. It'll feel like early June!
The wind will back around to the Northeast and East tonight and  Tuesday.  This will result in cooler temperatures on Tuesday. More clouds than sun is expected. A cool front will approach later in the day with scattered showers.
Temperatures will return to more seasonal averages by mid week under mainly sunny skies. The average high temperature is in the upper 50s.
Showers are possible later Friday was a front approaches from the West.
Keep it here for a no nonsense, no hype forecast.
Today:
Any morning showers will end, becoming partly sunny. Warm. Highs in the mid to upper 70s. Southwest winds at 10-15mph.
Tonight:
Mostly cloudy. Mild. Lows in the 50s throughout. West to Northeast winds at 5-10mph.
Tuesday:
Mostly cloudy.  Scattered PM showers. Highs in the mid 60s.
Wednesday:
Mostly sunny. Cooler. Highs in the mid to upper 50s.
Thursday:
Sunny. Highs in the mid 50s.
Friday:
Partly sunny. Chance of late showers. Highs in the lower 60s.