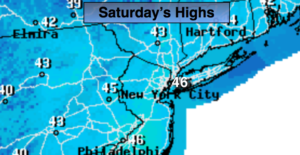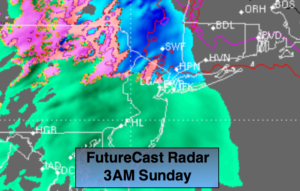 Synopsis:
Saturday will feel much better than the last several days as readings rise into the seasonal mid 40s under mostly sunny skies. High pressure moving off the Northeast coast will be responsible for our delightful day.
Tonight and Sunday a storm will track well to our West (warm scenario). Rain will develop around or just after midnight. North and West of the City a mix of snow, sleet and freezing rain is likely (2nd map above). A coating of snow and ice is possible in these areas. Please use caution on untreated surfaces. On Sunday rain will continue in the morning. Well inland there will be pockets of freezing rain in the colder valleys. The rain looks to taper off by midday. Some late day sun is possible, especially now that the sun will set close to 7pm!
Tranquil conditions are expected to the beginning of the workweek. Readings will be mild on Monday with temperatures dropping back to more seasonal readings for mid March.
Don't forget we "Spring Ahead" tonight. The clocks turn ahead one hour at 2am Sunday morning as Daylight Saving Time begins. We lose an hour of sleep but gain an hour of daylight on the back end. Today's sunset is at 5:56PM- tomorrow's sunset is at 6:57PM…woot…woot! It's also a good time to change the batteries in your smoke and carbon monoxide detectors.
Keep it here for a no nonsense, no hype forecast.
Today:
Mostly sunny, seasonal. Highs in the mid 40s. North to Southeast winds at 5mph.
Tonight:
Rain developing along the coast. Snow, sleet and freezing rain developing inland around or just after midnight. Lows in the upper 30s in the City, around freezing inland.  Southeast to East winds at 5-10mph increasing to 10-20mph at the coast late.
Sunday:
Rain. Pockets of freezing rain well inland early. Some late day sun is possible. Highs in the mid to upper 40s.
Monday:
Partly sunny. Mild. Highs around 50º.
Tuesday:
Partly sunny, cooler. Highs in the lower 40s.
Wednesday:
Sunny.  Highs in the mid 40s.