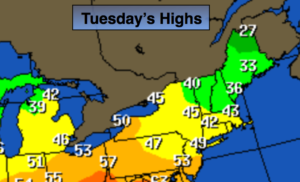 Synopsis:
A light mix inland or rain at the coast will end this morning. A light coating of slushy snow/ice is possible North and West. Please use caution on untreated surfaces. Mild air will work in and change any leftover precipitation to light rain during the morning.
Today we'll be sandwiched between the departing weak low and another weak low heading our way from the West. Skies will remain cloudy and it'll be mild. Another shot of scattered rain and or snow showers is possible with the a second low moving into New England tonight. This low will be followed by typical January readings as the flow will come out of Canada. Highs for late week will be below average for a change. The average high is 38º.
There has been chatter about a possible storm on Sunday. Some of the models taken verbatim give parts of the area a snowstorm, while other models like the European have a weak system offshore with little if any snowfall. This is 5 days away. Plenty can change, but at this time I'm leaning with the European-meaning little snowfall. This is not etched in stone. Please continue to check back to JMW for the very latest.
You know where to find a no hype, no nonsense forecast.
Stay tuned.
Today:
Morning showers or mix inland ending by sunrise, otherwise, cloudy and mild. Highs well into he 40s. Southeast to South winds at 5mph.
Tonight:
Cloudy with scattered snow and rain showers. Lows around 40º at the coast, the 30s inland. West winds at 5-10mph increasing to 15-25mph by daybreak.
Wednesday:
Partly sunny. Highs in the mid 40s.
Thursday:
Partly sunny. Cold. Highs in the mid 30s.
Friday:
Partly sunny. Cold. Highs around freezing.
Saturday:
Sun to afternoon clouds. Cold. Highs around freezing.