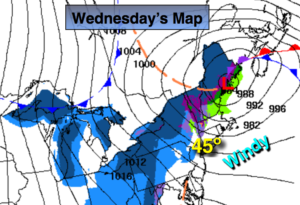 Synopsis:
Areas of dense fog can be expected into tonight as a warm front inches through the area and falls apart. Another shot of scattered rain showers is likely with a second low moving into New England tonight.
Wednesday will be mostly cloudy with strong winds. Low pressure will rapidly intensify over New England. At the same time, strong high pressure will be over the Northern Plains. This will cause a tight pressure gradient which will result in strong Northwest winds. Gusts up to 40mph are possible both Wednesday and Thursday. Wednesday temperatures will be above average but by Thursday January will make it's presence known. Highs will only be in the 30s with wind chills in the 20s under partly sunny skies.
The Canadian high will move toward the Northeast on Friday. The winds should abate some. It'll only be near freezing despite the sunshine.
One thing is sure about the weekend-it'll be cold!  Saturday will start off with sun but clouds will roll in during the afternoon.
Sunday's storm potential remains low. The latest two models, the GFS and the European both gave into each other a bit. The GFS is farther South from previous runs and the European is farther North and a bit more robust with its precipitation to the South of the region. The storm never becomes strong on both models. The Northern and Southern jet do not look to phase; but what happens is there's enough energy from both streams to produce some light snow across the areas on Sunday. The airmass will be very dry so how much snow falls remains to be seen, but "light" is the operative word here. We're 4 days away from the event. Nothing is etched in stone. JMW continues to track and digest the latest guidance.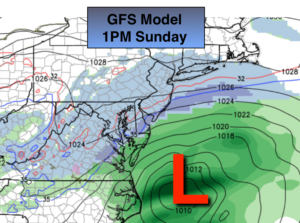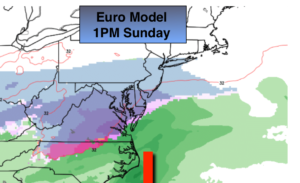 You know where to find a no hype, no nonsense forecast.
Stay tuned.
Tonight:
Areas of dense fog early otherwise cloudy with scattered showers. Lows in the 30s throughout. SouthWest to West winds at 5-10mph increasing to 15-25mph by daybreak.
Wednesday:
Mostly cloudy and windy. Highs in the mid 40s. West to Northwest winds at 15-30mph with gusts to 40mph.
Thursday:
Partly sunny, windy and cold. Highs in the mid 30s.
Friday:
Mostly sunny. Cold. Highs around freezing.
Saturday:
Sun to afternoon clouds. Cold. Highs around freezing.
Sunday:
Mostly cloudy. Potential for light snow, especially South. Highs around 30º.