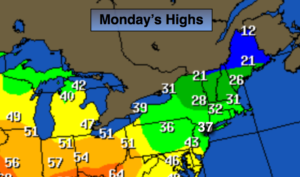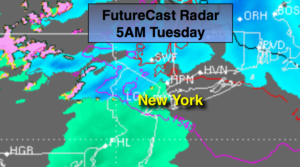 Synopsis:
High pressure over Eastern Canada will funnel in much colder temperatures today. It'll be sunny to start but clouds will roll in during the afternoon. Temperatures will finally be seasonal, reaching the mid to upper 30s.  A weak low pressure system will approach tonight. Light rain or snow showers are possible. This shouldn't be a big deal. A light coating of slushy snow is possible North and West (2nd map above).
Tuesday we'll be sandwiched between the departing weak low and another weak low heading our way from the West. A few morning showers are possible otherwise it'll be mostly cloudy and mild. Another shot of scattered rain and or snow showers is possible with the second low Tuesday night. This low will be followed by typical January readings as the flow will come out of Canada. Highs for late week will be seasonal for January. A chill is on the way, but by no means will this be an Arctic blast.
There has been chatter about a possible storm Sunday. At this time, the system looks to stay offshore. This is 6 days away. Plenty can change, but at this time I'm keeping it dry. Please continue to check back to JMW for the very latest.
You know where to find a no hype, no nonsense forecast.
Stay tuned.
Today:
Sun to clouds, seasonal. Highs in the mid to upper 30s. North to Southeast winds at 5mph.
Tonight:
Cloudy with scattered snow and rain showers. A bit of Freezing rain or sleet may fall North and West. Temperatures will rise through the 20s inland, the 30s at the coast. Southeast winds diminishing 5mph.
Tuesday:
Morning showers, otherwise, mostly cloudy and mild. Highs around 50º.
Wednesday:
Partly sunny. Highs around 40º.
Thursday:
Partly sunny. Cold. Highs in the mid 30s.
Friday:
Partly sunny. Cold. Highs around freezing.