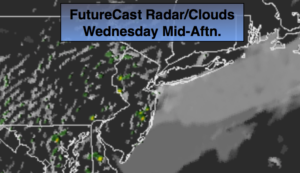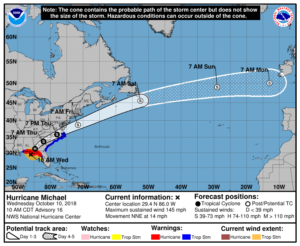 Synopsis:
The tropical airmass that we've been dealing with will stick around through tomorrow as high pressure off the coast continues to pump up moisture from the South. Clouds and patchy fog will be with us this morning. Enough drying will take place during the afternoon to allow for some sunshine. Readings will be ten degrees above the average high (which is in the upper 60s).
Hurricane Michael made landfall this afternoon just short of category 5 status (winds of 155mph) near Mexico Beach, Florida. Catastrophic damage is likely from extreme winds and flooding. The storm will move into interior Florida, Southern GA and into the Carolina's through Thursday.
By Thursday, a cold font will be approaching the region. Showers and thunderstorms are likely. Confidence continues to increase that Michael will stay just far enough South and East on Friday to spare the area of the storm's affects. A few coastal showers are possible during the early morning hours, otherwise the sun will return. As always keep it here to JMW for the very latest on track of hurricane Michael.
Finally, decent Fall weather will be with us this upcoming weekend. It'll be cooler than average but the shine will shine much of the time.
You know where to find a no hype, no nonsense forecast.
Stay tuned.
Today:
Morning clouds and patchy fog will give way to some sun. Warm & humid. Highs near 80º. South to Southwest winds at 5-10mph.
Tonight:
Mostly cloudy, muggy and warm. Scattered showers late. Lows in the lower 70s in the City, the upper 60s inland. South to Southwest wind at 5mph.
Thursday:
Mostly cloudy with periods of rain and scattered storms. Humid. Highs in the mid 70s.
Friday:
Early morning showers possible at the coast, otherwise becoming partly sunny. Much cooler, breezy and less humid. Highs in the mid 60s.
Saturday:
Mostly sunny and very cool. Highs around 60º.
Sunday:
Mostly sunny & cool. Highs in the lower 60s.
Keep it here for a no nonsense, no hype forecast.