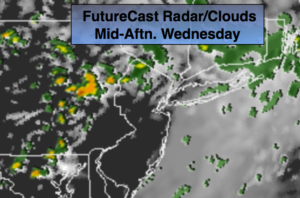 Synopsis:
A weak front will move in today with spotty showers and isolated afternoon and evening storm. Not all areas will get wet. It'll become humid during the afternoon. Behind the front on Thursday it will be more comfortable.
Friday will be a winner as high pressure moves in.
The weekend will be Summer-like with plenty of sunshine. Father's Day will be mostly sunny with highs well into the 80s with higher humidity.
Stay tuned.
Today:
Mostly cloudy. Spotty showers or thunderstorms are possible. More humid. Highs in the mid 70s. Southwest winds at 8-12mph.
Tonight:
An early shower or storm otherwise becoming mostly clear and becoming much less humid late. Lows in the mid 60s in the City, the 50s inland.  Southwest to West winds at 5mph.
Thursday:
Partly sunny. Highs in the lower 80s.
Friday:
Mostly sunny. Highs around 80º.
Saturday:
Sunny. Warm. Highs in the mid 80s.
Sunday:
Mostly sunny, very warm and humid. Highs in the mid to upper 80s.
Keep it here for a no nonsense, no hype forecast.