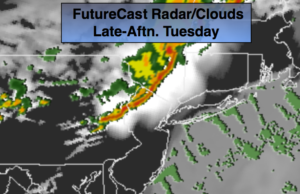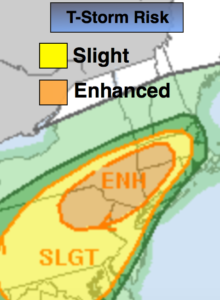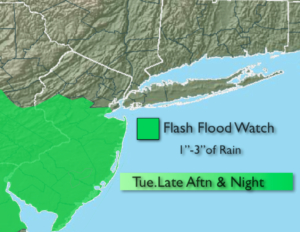 Synopsis:
A stationary front over the Mid-Atlantic will affect our weather through the workweek.  A Southwesterly will result in hazy, very warm and humid conditions today. It'll feel more like July then mid-May. Energy riding along the the front will cause showers and strong to severe thunderstorms to develop later in the day and evening. Much of the region is in a slight to enhanced risk of severe thunderstorms (map above). Severe thunderstorms are defined as storms with winds in excess of 58mph and or 3/4″ hail. Flash flooding is a possibility as well, as the models are hinting at slowly recurring storms. Please keep an eye to the sky after 4pm. Seek shelter immediately if threatening weather looks imminent.
Wednesday will be much cooler with cloudy skies and on and off showers as the front slip to the South. More sunshine is anticipated for Thursday with readings a few degrees above the average of 71º.
The stationary front will become a strong warm front and move toward the area on Friday. The ingredients are there for the potential of more heavy rain and thunderstorms later in the day.
Stay tuned.
Today:
Hazy, very warm and more humid. Scattered strong to severe afternoon & evening thunderstorms. Highs in the upper 80s. Southwest winds at 10-20mph.
Tonight:
Early showers and thunderstorms. Lows in the upper 50s to lower 60s. Northeast winds at 5mph.
Wednesday:
Cloudy. Much cooler with scattered showers. Highs in the mid 60s.
Thursday:
Clouds to some sun. Highs in the mid 70s.
Friday:
Cloudy with periods of rain and thunderstorms, much cooler. Locally heavy rain. Highs in the mid 60s.
Saturday:
Mostly cloudy with scattered showers and thunderstorms. Highs in the lower 70s.
Keep it here for a no nonsense, no hype forecast.