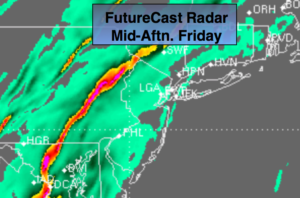 Synopsis:
It'll feel like Spring to day. A significant ridge will develop with the jet stream this will allow a Southerly flow to develop ahead of the front and storm system. Very warm air will work up from the South. Periods of rain is expected. There will be dry times. Temperatures will be at or above 60º. There will be areas of fog.
On Saturday a second low pressure will move up the Piedmont. The latest computer guidance has the storm a bit closer to the coast. Rain is likely Saturday morning. The temperature gradient from the immediate coast to 150 miles North and West is extreme-from the 50s to the 20s. If the low is far enough East the cold air will spill into the Northwestern suburbs and allow for a freezing rain situation. This has to monitored very closely. Whatever the case, the precipitation will end Saturday morning with temperatures falling into the 20s and 30s during the afternoon with returning sunshine.
Colder times are in our future beyond this time frame and there is a a threat of light snow Tuesday. Enjoy the break now!
Stay tuned.
Today:
Periods of rain. The rain maybe heavy at times. Areas of fog. Balmy. The winds may kick up for a time. Highs in the lower 60s. South wind at 10-20mph.
Tonight:
Warm with periods of rain and thunderstorms. The rain maybe heavy at times. Lows in the 50s then dropping into the 40s in the City, the 40s then dropping into the 30s inland. South wind at 10-20mph becoming Northwest toward dawn.
Saturday:
Periods of rain in the morning. Freezing rain is possible inland. The sun will make an appearance during the afternoon. A morning high in the 40 at the coast ,30s inland with readings falling into the 30s along the coast, the 20s inland during the afternoon.
Sunday:
Partly sunny, breezy and much colder. Highs in the upper 20s.
Monday:
Partly sunny, breezy and colder. Highs in the upper 20s.
Tuesday:
Mostly cloudy with a chance of light snow. Highs around 30.
Keep it here for a no nonsense, no hype forecast.