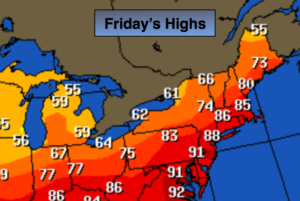 Synopsis:
Today will be the the last day of the heat. Readings will once again reach 90º or above in most locales. A cool front will move through later today basically rain-free. The humidity will drop this afternoon.
Relief is on the way for the weekend. It'll be more seasonal with plenty of sunshine. Temperatures will be twenty five degrees cooler. A gem of a weekend is on the way.
Stay tuned.
Today:
Hazy, hot and humid. Highs 90º-95º. There will be a noticeable drop in the humidity later this afternoon. Southwest to West winds at 10-2omph.
Tonight:
Mostly clear. Much cooler. Great sleeping weather. Lows in the upper 50s in the City, the upper 40s inland. North to North/Northeast winds at 10-15mph.
Saturday:
Mostly sunny and much cooler. Highs around 70º.
Sunday:
Mostly sunny, cool. Highs in the upper 60s.
Monday:
Sun and clouds with scattered showers. Highs in the mid 70s.
Tuesday:
Partly sunny. Highs in the mid 70s.
Keep it here for a no nonsense, no hype forecast.