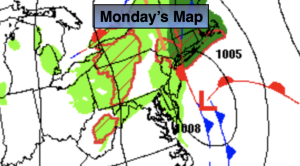 Synopsis:
Low pressure developing along a front off our coast will be responsible for our wet weather. The steadiest and heaviest rain will be this morning. Areas East of the City will stay in the rain the longest, meaning into the afternoon. The afternoon will be basically dry for regions to the West this afternoon. Some sun is possible in these areas. Readings will be below average with the rain cooled air. The average high temperatures are in the mid 70s.
The forecast for the rest of the week looks delightful with abundant sunshine and comfortable temperatures as high pressure influences our region from the Great Lakes. Nice way to wrap up the last week of Summer!  Fall arrives on Saturday.
Stay tuned.
Keep it here for a no nonsense, no hype forecast.
Monday:
Areas of morning rain giving way to scattered showers. Some brightening of the skies is possible West of the City. Highs around 70º. Northeast to Northwest winds at 5-10mph.
Tonight:
Mostly clear. Lows in the upper 50s in the City, around 50º inland. Northwest winds at 5-10mph.
Tuesday:
Mostly sunny. Highs in the mid 70s.
Wednesday:
Sunny. Highs in the mid 70s.
Thursday:
Sunny. Highs in the mid 70s.
Friday:
Sunny. Highs in the mid 70s.