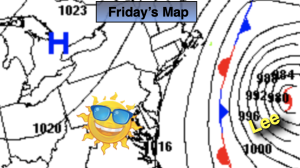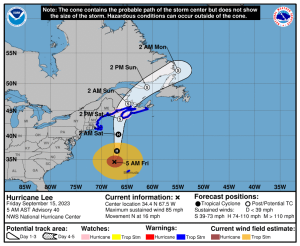 Synopsis:
High pressure to our North will supply the region with a refreshing air mass today. It'll be a Fall-like Friday for sure. The humidity will be very low and readings will be below the average high of the upper 70s. Oh yeah, there will be some great sleeping weather as well!
The high will keep our weather delightful this weekend as Hurricane Lee continues to move North in the  Atlantic. The forecast models continue to keep this storm offshore of the Eastern seaboard. Landfall is possible in Nova Scotia late Saturday afternoon. High surf, beach erosion and rip currents can be expected in our region into the weekend.
Both Saturday and Sunday will feature plenty of sunshine and seasonable readings in our region. Later Sunday, clouds will roll in ahead of the next low pressure area moving up from the South. Showers are likely Sunday evening through Monday morning.
Tuesday will be a gem with abundant sunshine and comfortable temperatures as high pressure influences our conditions from the Great Lakes.
Stay tuned.
Keep it here for a no nonsense, no hype forecast.
Friday:
Mostly sunny. Cooler. Highs in the lower 70s. North winds at 10-20mph.
Tonight:
Partly cloudy. Cool. Lows in the upper 50s in the City, the 40s & 50s inland. North/Northwest winds at 8-15mph.
Saturday:
Mostly sunny. Breezy. Highs in the mid 70s.
Sunday:
Sun to clouds. Highs in the mid to upper 70s.
Monday:
Morning showers, otherwise mostly cloudy. Highs in the mid to upper 70s.
Tuesday:
Sunny. Highs in the mid 70s.