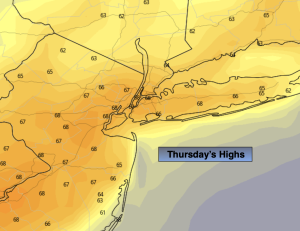 Synopsis:
Pleasant conditions are expected through the week as high pressure dominates the Northeast. Readings will be within five to seven degrees cooler than the average highs of the mid 70s as Canadian air rules.
The hazy look in the atmosphere is not haze, but smoke from the wildfires in Alberta Canada. Over two million acres have charred an area of twice the size of Long Island.
The Memorial Day Weekend now looks decent all three days!  Low pressure looks to stay well to the South through the holiday. High pressure over the region will result in a bright sky with moderating temperatures. Can we go 3 for 3? Stay tuned.
Keep it here for a no nonsense, no hype forecast.
Thursday:
Sunny, breezy and cooler. Highs in the upper 60s. North wind at 10-20mph diminishing to 5-10mph by afternoon.
Tonight:
Clear and cool. Lows in the lower 50s in the City, the upper 30s & 40s inland. North wind less than 5mph.
Friday:
Mostly sunny. Highs in the lower 70s.
Saturday:
Partly sunny. Highs in the lower to mid 70s.
Sunday:
Partly sunny. Highs in the mid to upper 70s.
Memorial Day:
Partly sunny. Warm. Highs in the lower 80s.