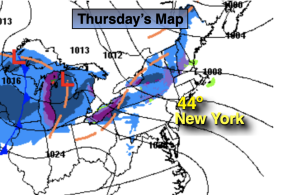 Synopsis:
Sunshine will dominate through the weekend as unseasonably cold air funnels in from Canada courtesy of high pressure and an upper level trough. Readings will be at least ten degrees below the average highs of the lower to mid 50s. Sunday looks to be the coldest day of the season so far with most readings for highs remaining in the 30s.
Temperatures will begin a slow recovery starting on Monday.
There are no storms on the map through early next week.
Stay tuned.
Keep it here for a no hype, no nonsense forecast.
Thursday:
Partly sunny and breezy. Highs in the lower to mid 40s. West winds at 10-20mph.
Tonight:
Mostly clear. Lows in the mid 30s in the City. The 20s and 30s inland. West winds at 8-12mph.
Friday:
Mostly sunny. Highs in the lower 40s.
Saturday:
Mostly sunny. Highs around 40º.
Sunday:
Mostly sunny. Cold. Highs in the upper 30s.
Monday:
Mostly sunny. Highs in the mid 40s.