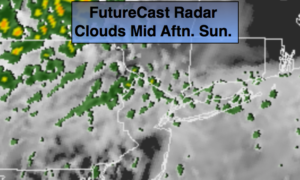 Synopsis:
A storm will develop over the Ohio valley and ride North toward Central NY state the next 24 hours. It will be a battle between the clouds and sun as a warm front works North through the region today. There will be areas of morning dense fog. Spotty showers are likely during the afternoon. It will not be a washout and there will be dry times.
A period of heavy rain and possible thunderstorms is likely late  tonight and Monday morning as the storm moves well to our Northwest and drags a cold front through. After the rain ends early Monday it will become partly sunny and breezy.
Tuesday will be the pick day of the week with mostly sunny skies. High pressure will slip off the New England coast midweek and a stationary front will be in the vicinity. This will result in more clouds and the possibility of some showers or patchy drizzle Wednesday and Thursday. This is not etched in stone at this time and maybe a more pessimistic forecast.  Readings near the seasonal average of 60º.
Keep it here for a no nonsense, no hype forecast.
Stay tuned.
Today:
Patchy morning dense fog over Long Island, otherwise a mix of clouds and some sun. Spotty afternoon showers or areas of drizzle. There will be dry times. Highs in the mid 60s. Cooler over Eastern regions.
Tonight:
Cloudy and balmy. A period of rain and thunderstorms is likely late tonight. Lows in the 50s to around 60º throughout. South to Southwest winds increasing to 15-25mph with higher gusts.
Monday:
Rain and thunderstorms ending during the early morning, becoming partly sunny and breezy. Highs in the lower 60s.
Tuesday:
Partly sunny. Highs in the lower 60s.
Wednesday:
Sun to clouds. Spotty showers possible. Highs around 60º.
Thursday:
Mostly cloudy. Spotty showers possible. Highs in the lower 60s.