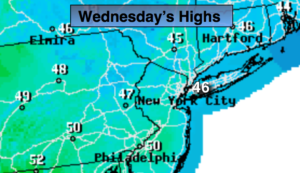 Synopsis:
Tranquil conditions are expected through Thursday. Readings will be near average today (the average high is in the upper 40s) as high pressure moves directly overhead. The sun will be the dominate feature. Temperatures will rise to above seasonal averages by Thursday as the high slips off the coast and a return flow from the South takes hold.
The next chance of showers will arrive Friday with an approaching cool front. Ahead of the front it'll feel like Spring.
The upcoming weekend looks quiet with typical highs for March.  The sun will once again will rule the sky.
Keep it here for a no nonsense, no hype forecast.
Today:
Sunny. Highs in the mid to upper 40s. Light and variable winds.
Tonight:
Mostly cloudy. Lows around 40º in the City, near freezing inland. South to Southeast winds less than 5mph.
Thursday:
Partly sunny. Mild.  Highs in the mid to upper 50s.
Friday:
Mostly cloudy and balmy with scattered showers.  Highs in the lower 60s.
Saturday:
Partly sunny.  Highs around 50º.
Sunday:
Partly sunny.  Highs in the mid to upper 40s.