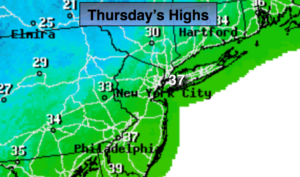 Synopsis:
January will finally make an appearance with cold temperatures and bone chilling winds. Low pressure will be over Southeastern Canada, at the same time, strong high pressure will be over the Northern Plains. This will cause a tight pressure gradient which will result in strong Northwest winds. Gusts between 30-40mph will occur through today. Highs will only be in the 30s with wind chills in the 20s under partly sunny skies on Thursday.
The Canadian high will move toward the Northeast on Friday. The winds should abate some. It'll only be near freezing despite the sunshine.
One thing is sure about the weekend-it'll be cold!  Saturday will start off with sun but clouds will roll in during the afternoon. A few flurries are possible by late day.
The potential for a light snowfall still exists for Saturday night and Sunday. The GFS, the crazy model that gave the area a snowstorm two days ago (didn't believe that for a second) barely has flakes falling in the NYC vicinity on Sunday. The European which has been consistent, with minor changes (which is expected) has been showing light snow or snow showers over the region. The storm never becomes strong on both models until it's way off the coast. The Northern and Southern jet do not phase; but what happens is there's enough energy from both streams to produce some light snow or flurries across the areas on Sunday. The airmass will be very dry so how much snow falls remains to be seen, but "light" is the operative word here. It maybe just a few snow showers.  Areas to the North of the City may not see any snow.  And to think there were outlets forecasting over 10″ of snow a few days ago. FAKE NEWS.
You know where to find a no hype, no nonsense forecast.
Stay tuned.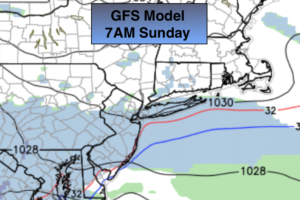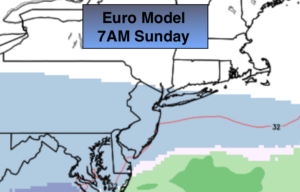 Today:
Scattered early flurries otherwise, partly sunny, windy and cold. Highs in the mid 30s. Northwest winds at 15-30mph with gusts to 40mph. Wind chills in the 2os.
Tonight:
Mostly clear. Frigid. Lows in the lower 20s in the City, the teens inland. Northwest winds diminishing to 15-25mph. Wind chills in the teens, single digits well inland.
Friday:
Mostly sunny. Cold. Highs around freezing.
Saturday:
Sun to afternoon clouds. Slight chance of late day flurries. Cold. Highs around freezing.
Sunday:
Mostly cloudy. Potential for light snow or snow showers, especially South. Highs around 30º.
Monday:
Partly sunny. Highs in the mid 30s.