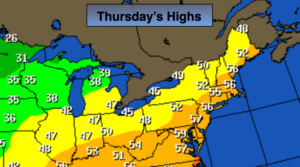 Synopsis:
High pressure will continue to influence our weather through today. Mainly sunny skies are expected with seasonal readings. The average high for the date is 56º.
It looks like it'll be a wet close to the workweek by Friday afternoon as a low develops over the Mid-Atlantic and moves Northeast. Any morning sun will give way to thickening clouds. Rain will develop later in the day and continue into the night. The latest computer guidance suggests that the onset of rain maybe delayed until later in the afternoon. The rain maybe heavy at times early Friday night.
Once the low and front move off the coast Friday Night; it'll set the stage for a precipitation free weekend for a change!  Low pressure in Canada and strong high pressure over the midwest will result in strong Northwest winds on Saturday, at least it'll be partly sunny. Sunday-Veteran's Day, will be chilly with abundant sunshine as high pressure moves in. Winds will relax.
Another low will move up the Eastern Seaboard Monday night into Tuesday. More rain is on the way. The coldest temperatures of the season so far could be with us by midweek next week.
You know where to find a no hype, no nonsense forecast.
Stay tuned.
Today:
Mostly sunny & seasonal. Highs in the mid 50s. Northwest winds at 5-10mph.
Tonight:
Mostly clear and colder. Lows in the lower 40s in the City, the upper 20s & 30s inland. Northwest to Northeast winds at 5-10mph.
Friday:
Early sun will give way to clouds and rain by mid afternoon. Highs in the mid 50s.
Saturday:
Partly sunny, windy and chilly. Highs around 50º.
Veterans' Day:
Sunny and unseasonably cool. Highs in the mid 40s.
Monday:
Morning sun, afternoon clouds. Highs in the upper 40s.
Keep it here for a no nonsense, no hype forecast.