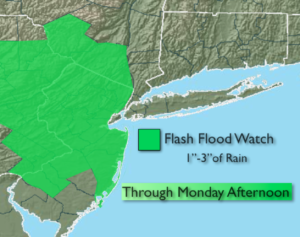 Synopsis:
***Flash Flood Watch for NJ, Eastern PA, Rockland, Orange and Sullivan counties Today***
A large area of low pressure will affect the Northeast today. A period of heavy rain and thunderstorms is likely this morning as a deep Southern flow ahead of a cold front works in. One to three inches of rain is possible during the morning commute through early afternoon. Flooding of streets and highways is possible. Once the front moves through by midday the rain will taper off to scattered showers and there maybe some occasional peeks of sun. It will be mild. Winds will be strong early Monday then diminish during the afternoon.
The low will pull into Canada on Tuesday but upper level energy will work through. This will result in plenty of clouds and scattered afternoon showers.
The sun will return Wednesday, but a rapidly moving low pressure will move through on Thursday with another round of showers. The sun will once again return Friday. Temperatures will remain below average through the period.
Stay tuned.
Today:
Rain, possibly heavy at times this morning with scattered thunderstorms. Scattered showers in the afternoon with some afternoon sun. Highs around 60º. Southeast to South wind at 15-30mph with gusts to 40mph in the morning. The winds during the day.
Tonight:
Becoming partly cloudy. West winds at 10-15mph.
Tuesday:
Mostly cloudy with scattered afternoon showers. Cool. Highs around 50º.
Wednesday:
Mostly sunny. Highs in mid to upper 50s.
Thursday:
Mostly cloudy. Chance of afternoon showers. Highs in mid 50s.
Friday:
Partly sunny. Highs in the lower to mid 50s.
Keep it here for a no nonsense, no hype forecast.