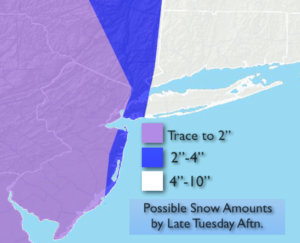 Synopsis:
Both the Southern and Northern jet stream will be high energized, this will result in explosive intensification of the coastal low off the Mid-Atlantic coast. Bombogenesis will occur-the birth of a rapidly deepening storm. This storm will move up and off our immediate coast late tonight into Tuesday. The storm looks to take a path just outside the track for a major snowstorm for the entire area. Areas to the East of NYC will not be spared, as the heavier snow shield should work into Eastern Long Island and Connecticut. A Winter Storm warning has been posted for this area for the likelihood of heavy snow. Farther to the West much lighter accumulations are expected with virtually no accumulation in spots. The possible snow amounts are above. Please note a track closer to the coast will result in higher totals farther West- a track farther East Lighter amounts.
Strong wind gusts of 40-45mph are possible along the coast on Tuesday. Minor coastal flooding is possible. Damaging winds of the first Nor'easter ten days ago is not expected.
The storm will pull away on Tuesday with snow lingering to the East of NYC during the afternoon. Some sun is possible.
It will be cold and breezy behind this system into midweek next week with scattered flurries.
Stay tuned.
Tonight:
Periods of light snow. Heavier snow developing over Long Island and Connecticut late. Lows near freezing in the City, the upper 20s inland. Northeast to Northwest winds increasing to 10-20mph.
Tuesday:
Snow, ending West in the morning. The snow will continue East of NYC into the afternoon. Some sun is possible. Windy. Highs in the upper 30s. Northwest winds at 15-30mph with higher gusts.
Wednesday:
Clouds and sun, windy and chilly. Scattered afternoon snow showers. Highs in the upper 30s.
Thursday:
Partly sunny, windy. Highs in the lower 40s.
Friday:
Partly sunny, windy and cold. Highs in the upper 30s.
Saturday:
Partly sunny. Not as harsh by afternoon. Highs in the lower to mid 40s.
Keep it here for a no nonsense, no hype forecast.