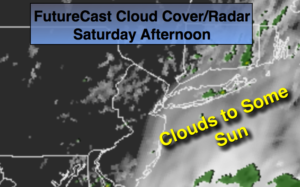 Synopsis:
A Southerly flow will continue today as high pressure pushes farther offshore. The humidity will be high. A weak disturbance will move through this morning with coastal showers. The sun will make an appearance for many this morning into this afternoon as drier air works in. A stray evening storm is possible as.
Sunday will be the better half of the weekend with abundant sunshine and warmer readings.
The weather looks to cooperate into the beginning of the week.
Stay Tuned.
Today:
Clouds will give way to some sunshine today. Humid. A stray storm is possible this evening. Highs in the upper 70s. Southeast to South winds at 8-12mph.
Tonight:
An evening storm otherwise partly cloudy. Lows in the 60s throughout. Southwest to West winds under 5mph.
Sunday:
Mostly sunny with lower humidity. Highs in the lower 80s.
Monday:
Partly sunny. Highs in the lower 80s.
Tuesday:
Sun & clouds. Highs in the lower 80s.
Wednesday:
Mostly sunny. Warm. Highs in the mid 80s.
Keep it here for a no nonsense, no hype forecast.