***Winter Weather Advisory for Sussex and Orange Counties for Wet Snow Tonight***
Sun to Clouds. Rain by Sunset.  Wet Snow Well Inland Tonight…
Updated: 12/6/2016 5:41AM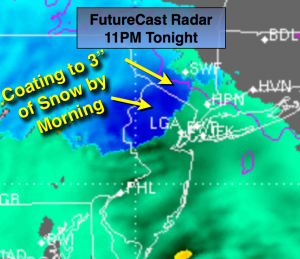 Synopsis:
A low pressure system will affect the area later today into Wednesday.  Like the last event it will most likely be cold enough well inland for some wet snow. Any sun will give way to thickening clouds today with light rain developing toward sunset.  Inland the precipitation will be wet snow (FutureCast radar above snows the areas of blue).  A coating to 3″ of snow is possible over the higher elevations Northwestern NJ and lower NY State…
Catch John's Forecast on Ch.2 WCBS TV on the Weekends!
---
John's Weather Tour
For an educational, highly dynamic weather assembly have your school become a part of "John's Weather Tour"!  Meteorologist John Marshall  with over 14 years of on-air experience will bring the mobile weather studio to your school.