The Sun Finally Returns Wednesday!!
On & Off Rain/Drizzle, Mix Inland This Evening…
Updated: 1/24/2017 2:38PM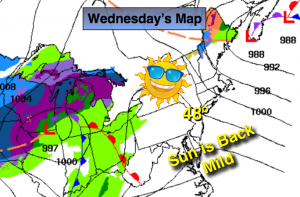 Synopsis:
On and off rain and areas of drizzle are expected into this evening as the storm slowly moves away from the region. North and West on and off wet snow or sleet is possible, especially at the higher elevations. There will be dry times. As the storm pulls away Wednesday we'll finally get to see the sun!  There is no cold air behind the Nor'easter…
Catch John's Forecast on Ch.2 WCBS TV on the Weekends!
---
John's Weather Tour
For an educational, highly dynamic weather assembly have your school become a part of "John's Weather Tour"!  Meteorologist John Marshall  with over 14 years of on-air experience will bring the mobile weather studio to your school.